Sponsored Links

Fitness is something that everyone should be conscious about. In the contemporary age that we are living in, most of us tend to have this laid-back attitude towards our health and fitness, mainly because of the heavy use of Internet-powered forums and Apps that we are addicted to, and spend most of our leisure time on them. But we can't emphasize enough the fact that fitness is everything when you talk about having a quality life. Without sound mental and physical health, you don't have the capability to live and enjoy your life to the fullest. Also, if you are fit and take care of yourself you reduce the chances of being prone to diseases and critical medical conditions.
General Ideas about Fitness
Heard the famous aphorism, 'You are what you eat'? We truly believe this, and no one can deny how important healthy eating really is. If you are working out but cannot stop having fizzy drinks and junk food like burgers, pizza, and the likes, and not to forget still practicing chain-smoking and being alcoholic, you are only doing the half (or even lesser) of what is required. So, instead of letting all your efforts of being fit to get wasted, make a little effort to eat healthy, like organic eggs, dairy products, green veggies like broccoli etc., fruits and so on. So basically, it requires an absolute and entire change of lifestyle.
Incorporating a regular workout routine, along with healthy eating and no bad habits of smoking, alcohol, and sleeping adequately, will make you not only physically fit but also mentally fresh and will enhance your productivity, capabilities and work stamina. Leaving these food items will help your body become stronger and also aid in detoxification. Also, spending more time in the fresh air and sun further boosts your freshness level and productivity.
Top Mobile Apps for Fitness Enthusiasts

Internet and gadgets have many productive uses as well, it's all about your choice and interest. Let's see how handy and productive these Apps could be.
We all are totally inseparable from our smartphones, at all times, so instead of making it something that relates to entertainment only, you can use your phones for productiveness too. Install one of these remarkable fitness Apps and keep your cellphones with you on-the-go and enjoy entertainment-packed work out sessions.
You can easily monitor your workout stamina, the time that you dedicated to your workout and even the number of steps you took (especially in Apps that encourage running for weight loss). With the facility of having subscriptions to Spectrum Cable Customer Service in every household and around the clock, using these Apps have become equally convenient, both outdoors and indoors.
Here is the list.
1. Runkeeper
Sponsored Links

Available on both iOS and Android, this running App will help you in weight loss by running and aids you in spending more time outdoors. You can go for a hike, run, walk, or any outdoor activity that involves taking steps really. And you get to have a vivid view of the workout and training that are doing in real time, with the App's fitness tracker that tracks your activity as well as encourages and motivates you to get more active. It is considered to be one of the top running Apps. So, if you are entertaining the idea of running for weight loss, download it today!
With this App, you can:
Track Workouts
Set Goals
Follow Plans
Stay Motivated
See Progress
2. MyFitnessPal
This is a very effective diet tracker and calorie counter App as they believe in losing weight in a healthy way. Medical studies also prove that losing weight by controlling and managing diet is the best. Available on both Android and iOS, it is a free and handy weigh loss App.
Eating habits are vital when it comes to weight loss, motivation to shift from being a junkie to eat nutritious food only is not a very easy task. Most of the nutrition Apps don't help you improve your diet, rather they enforce you to a complete no-fat and no-carb diet. Use this App on your Smartphones for easy and simple nutrition monitoring.
Following are some basic features of MyFitnessPal:
It is goal-agnostic.
It only tracks what you eat in a simple format that is very easy to use.
It lets you set targets on your own/ with the consultation of a nutritionist.
3. Sleep Tracker- Sleep Better by Runtastic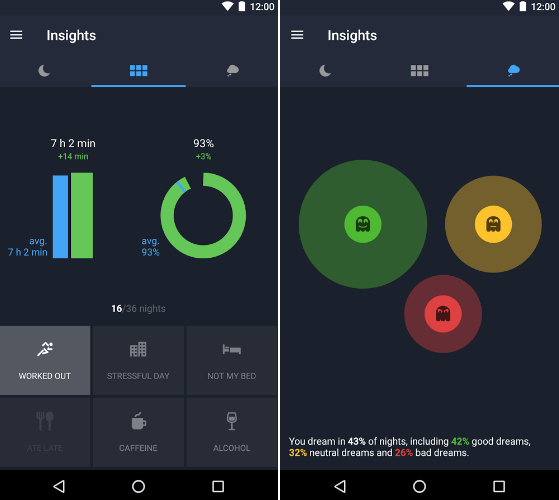 This is perhaps the best one amongst all the sleep Apps that essentially do one and the same thing- tracking your sleep with microphones or/and accelerometer and make use of pseudoscience to help and influence you on how you should rest. The reason why we tagged it as the best is that it literally encourages you in tracking and recording the main factors that interrupt or disturb your sleep. It eventually helps you to build and change your sleep habits with time.
This App helps:
Tracking your sleep cycle.
Monitoring dreams.
Improving bedtime habits.
In waking up better.
4. Habit-Bull: Daily Tracker, Goal Reminder
Like many things in life, health is actually a personal matter. You can advise others to have a better sleep or meditate to be healthier, but you can't exactly say things like, you really should work out, or oh don't this 'too sweet' granola bar, or you should really use the stairs, or could you manage to skip the 'alcohol session' this weekend? That would probably be too much intervention.
So, the best is to keep a check on your own self. Habit-bull is one of the best generic habit tracking App, to aid you in adopting healthy habits and behaviors. It motivates you to improve healthy habits by making it a game that actually gives you interesting analytics and digital incentives if you keep up with improvement.
5. Headspace: Meditation/Sworkit
If all you need is a handy, smart, easy-to-use workout App, especially if you want exercises other than running, here is your destination. It doesn't give as much detailed analytics as Runkeeper does, but still, it is nice App to meet goals, develop workout habits and to stay right on track.
Enjoy your fitness regime!
Author BIO:
My name is Rosie Harman (formerly Rosalie Glubbons), and I am a relationship coach, Yoga maestro and blogger. I write for buyinternetcable.com, and try to present my critical take on the latest sociocultural trends that dominate the blogosphere. I live in Indian River County, FL.
Sponsored Links